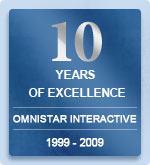 Smart Businesses Increase Sales with Help Desk Software
Omnistar Live is a fully-featured private label web based support software that includes live chat, ticket support, knowledge base, file manager, and troubleshooter all in one user friendly solution. With Omnistar Live, your clients will be able to integrate a comprehensive support solution that will increase customer satisfaction and reduce support costs, all while saving valuable time. The software includes many value added features to help improve your clients customer support efforts as follows:
Reduce Support Expenses - The web based live chat, help desk and knowledgebase components will allow your customers to setup an entire web based support system that will allow them to greatly reduce their customer support costs by eliminating a toll free support line.


Chat With Customers and Prospective Customers in Real Time - Your clients will be able to setup sales and support chat to field questions from existing customers and prospective customers all in real time.


Create a Searchable Article Repository - The knowledgebase component will allow your clients to store useful information in article format that can be searched on by category or by keyword. The articles can contain images, links and more which can be easily added with a built in WYSIWIG article editor.


Customers Can Find Resolutions to Their Own Problems - The features of Omnistar Live used in conjunction will give your customers the ability to have customers diagnose and solve their own problems through its self servicing components.


No Additional Software Needed - Omnistar Live is totally web based and does not require the installation or use of any other desktop software components.



Powerful Features Made Easy
Private Label Support Interface
Initiate Chat with site visitors
Internal Staff Knowledgebase
End User Ticket Submission
Private Label Front & Back End
Customizable User Interface
Helpdesk API Integration
Customizable Chat Surveys
Staff Email Alerts

All features are re-brandable
100% Web Based Interface
User Friendly Ticket Search
Time Management Tracking
90-Day Money Back Guarantee
Setup Accounts For All Support Staff
Customizable Helpdesk Form
Advanced Ticket Search
Email Based Ticket Submission


Feature Details
Immediate Download
Upon ordering the Omnistar Live Install version you will be able to immediately download and install the product. In addition, we offer Same Day optional FREE installs if you require our technical team to install the product. If you order our hosted version, after we confirm your order, we will set up your account the same day.


Lifetime Upgrades
Unlike other products that charge for new versions and upgrades, Omnistar Interactive offers FREE upgrades for life. Even if the product version number changes, you will still be entitled to a free upgrade. Our software team is continually adding new features and offers several new versions every year.


Re-Brand Omnistar Live
Omnistar Live can be easily re-branded so that web developers and designers can sell the product as their own.


Real-Time Chat
Omnistar Live enables you to engage in real-time chat with your website visitors. Your web site visitors will see an icon that will show whether there is available staff from the selected department, allowing them to easily request help if a representative is available.


Pro-Active Chat
Omnistar Live enables staff members to request chat conversations from web site visitors using a number of methods. First, staff members can pop-open a chat box on the visitor's browser. Alternately, staff members can engage visitors with an image that invites the visitor to chat. Finally, staff members can engage visitors with a floating icon that will scroll across the visitor's browser.


Ajax Chat Interface
Omnistar Live chat uses AJAX (Technology pioneered by Google and used in GMail, Google Maps and other Google Applications). Using this technology allows the Omnistar Live chat experience to work more efficiently.


No Special Download Required for Live Chat
Omnistar Live Ajax chat interface does not require clients to download any special plug-in before they chat with your staff.


Advance Help Desk
Omnistar Live includes an advance help desk component that allows visitors to add support tickets via email or help form. Once the ticket is entered, all staff members from the selected department are notified and the staff member can reply via the help desk area or email.


Powerful Knowledgebase
Omnistar Live includes an advanced knowledgebase with very powerful features including unlimited categories and sub-categories, internal only knowledgebase, glossary, advance searching, attachments, comments and more.


Intuitive Troubleshooter
The troubleshooter section will allow users to follow a series of questions to find answers to common problems. When you add a topic, you can add unlimited questions and answers under the topic. In addition, you can even create additional topics under a specific topic.


Enhanced Document Manager
Omnistar Live includes an optional Document Manager that allows you to make documents available to users of your help desk. This option could be used if you have documents or software upgrades that you have to make available to specific users. You may limit access to specific interest groups.


Staff Calendar / Address Book
Omnistar Live includes an optional calendar available to all staff members where staff members can post to-do items for themselves or other staff members. They can also setup to receive email reminders. In addition Omnistar Live includes a separate address book where staff members can post information and make that information available to all or selected staff members.


Staff Internal Mail System
Omnistar Live includes an optional internal mail system. Through our internal mail system staff members can easily communicate and send attachments that are only viewable from the Omnistar live system.


Detail Reports
Omnistar Live comes with a set of detail reports that allows you to view information such as web site traffic, referrers, user details, staff reports, visitor transcripts, user chat reports, staff events, knowledgebase reports, and survey reports. This is only a sampling of the reports offered by Omnistar Live.


Search Engine Integration
Omnistar live allows you to view which search engines your web site visitors are coming from and the key words used to reach your site.


Multi-Lingual
Omnistar Live allows you to easily translate the entire administrative, staff and user pages to ANY language. In addition to translating the software you can also change the MySql Character Set.


Third-Party Login API (TPLA)
Omnistar Live comes with an API to allow you to integrate with other software applications so that when you create login accounts with third-party applications you can automatically create accounts within your Omnistar Live.


Optional Windows Sys-tray Application
Omnistar Live includes a system tray windows application that allows staff members to minimize the monitor window to the system tray instead of the task bar. Therefore, the monitor window cannot accidentally be closed. This is an optional feature.


Still not convinced
Click here to see why thousands of webmasters choose Omnistar Live over the competition.
100% 90 Day Money Back Guarantee
Omnistar is so convinced that you'll love our product that we offer a 90 Day money back guarantee. If within the first 30 days after purchasing our product you decide for whatever reason it is not the right product for your business simply let us know and you will receive a full refund.

The Omnistar Guarantee.